Looking for a fun, unique and stress free party for your baby, toddler or child? Why not book an art party with ARTventurers?
ARTventurers | Art and Crafts Parties in Coventry
If you're planning a special party or event let ARTventurers make it a party to remember! There is a range of fabulous creative party packages to suit all age groups!
For more information about ARTventurers parties, prices, availability, to make a booking and more... contact Natalie at nataliecoventry@artventurers.co.uk.
Baby ART Parties - suitable for age 6 months upwards
A fabulous way to celebrate your little person's very first birthday with all of his or her family and friends! ARTventurers Baby ART parties are based on the very popular baby art classes – lots of colourful, creative, messy fun for everyone to enjoy with singing and dancing too! And don't worry if you have older siblings and party guests too – they will have lots to do as well!
Themed ARTy Party - suitable from 18 months to around 5-6 years
The classic Arty Party package suits all ages and the team can theme the party to whatever your little ones loves! The Arty Party session will have the children participating in different craft activities, doing some modelling, painting and collage (depending on the age of the party guests) and the package includes party bags to be filled with the crafts created during the session! ARTventurers can theme the party to anything your little one enjoys, from Superheroes, Princesses & Pirates, Trolls, The Gruffalo, Frozen to Moana or Dinosaurs. The party will finish with circle time and a sing along with instruments or parachute games before it's time for the party tea!
Bear Building Party - suitable for ages 6 years +
If you go down to the woods today you're in for a big surprise…..choose from 8″, 16″ cuddly's – each guest will assemble their own bear (other animals also available) which comes complete with a wish heart and it's very own birth certificate. They can even design a T shirt or canvas bag for their bear to wear! Alongside Bears, there is a wide range of cuddly pals from Dinosaurs, Unicorns, Pugs to Dragons and Ponies….. Ask the team for your little ones favourite. Bear building parties can take place at home or even in a restaurant/café.
Glitter and Sparkle Party - suitable for ages 6 years +
A sparkle packed hour of craft activities – decorating trinket boxes, glittery crafts and jewellery making too! We appreciate that this party package is most likely to appeal to little girls but if you have some male party guests too the team will be happy to bring along some extra activities to appeal to them too! Party bags provided to pop the crafts in and a special keepsake gift for the birthday girl!
Fabric Painting Party - suitable for ages 6 years +
Children love fabric painting – what fun to create a piece of artwork you can carry around or even wear! From painting bags to designing T shirts – with stamps, brushes, jewels… the team will also get the birthday guests to create something special for the birthday child!
Other creative birthday parties...
ARTventurers can offer a range of different creative parties tailored to your child's interests: Lego figure painting, Graffiti Canvas art……and lots more!
For more information about ARTventurers parties, prices, availability, to make a booking and more... contact Natalie at nataliecoventry@Artventurers.co.uk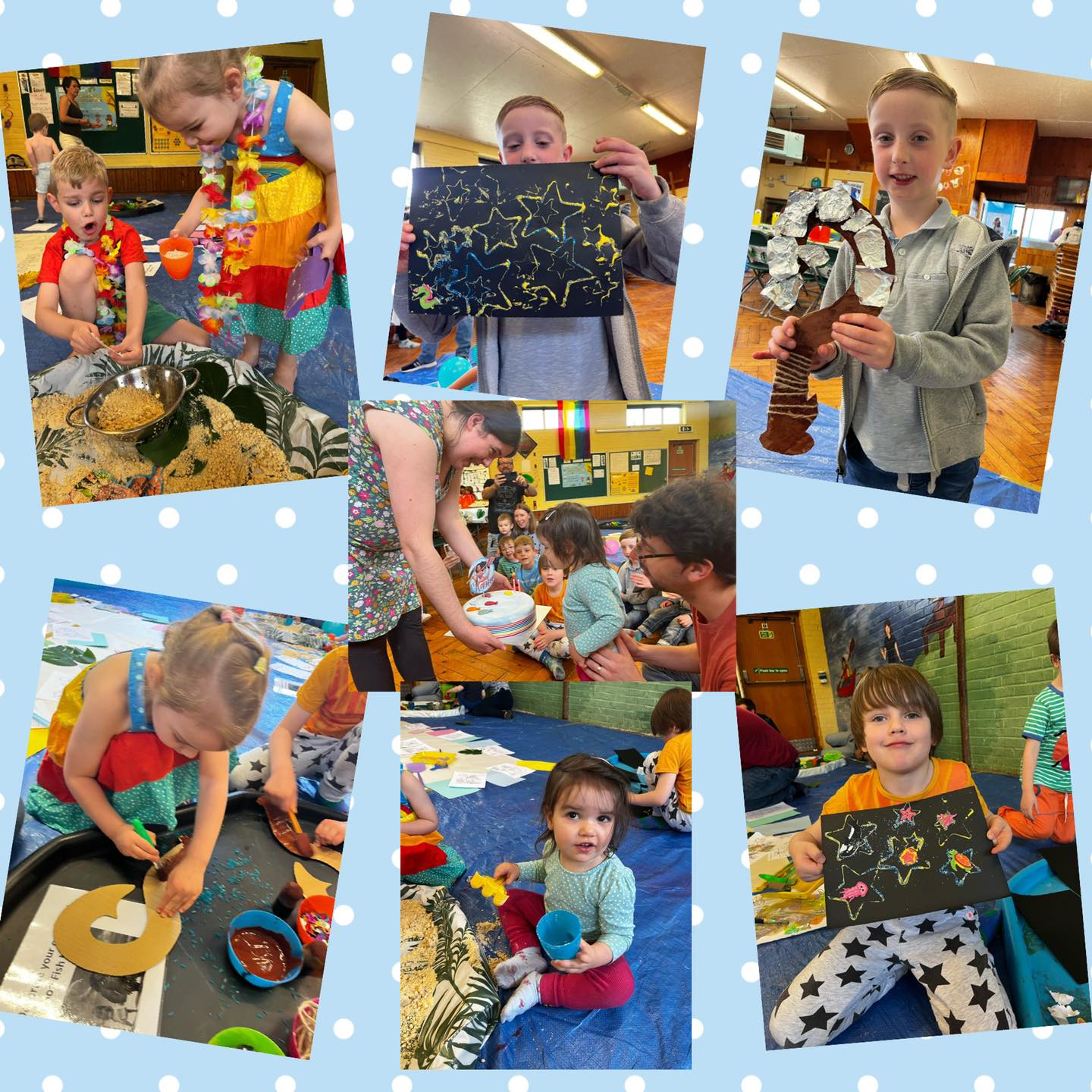 ---
Why ARTventurers?
ARTventurers run colourful, creative (often messy!) art, craft and creative play sessions for babies, toddlers and children as well as holiday classes and workshops, fantastic creative birthday parties, and other events for children of all ages!
As the name might suggest, ARTventurers are all about ART! Whether it's introducing Baby ARTventurers to their very first painting experiences, exploring new art materials and techniques with Little ARTventurers, delivering creative workshops for older children, injecting colour and creativity into events across the UK or celebrating special birthdays with a fab range of creative birthday packages, ARTventurers are all about getting children involved in art and creative play because of all of the fantastic benefits that art brings.
ARTventurers have been running award-winning art classes for babies, toddlers and children since 2011 and every week hundreds of children join in with the unique brand of colourful, creative (often messy!) fun across the UK! ARTventurers have been named as winners in categories in the What's On 4 Kids Awards in 2017, 2018, 2019, 2020 AND 2021 – awards voted by the grown ups who come along and join in the ARTventurers fun each week!
Are you looking for ARTventurers weekly sessions? ARTventurers run sessions at venues in and around Coventry - click here to find something perfect for you.

Contact details
We aim to keep the information on Coventry Rocks accurate but if you have noticed an error please let us know
Suggest an edit