Description
Pop Star Party provide Recording Studio Experience Birthday Parties for Children (& adults) operating from their recording studio near Coventry.
Pop Star Party | Music Parties for Children in Coventry
Have a singing party for your birthday in a real recording studio with your friends!
Choose one of the 4 award-winning party packages which have been running since 2009.
What to Expect
Choose your favourite songs to record just like a real Pop Star. First it's rehearsals till you all get the hang of it, then we record you as a group.
Next a short break taking photos for the CD & you can feast on a buffet whilst your single is produced.
Wasting no time you're straight back in to do another song and/or film you all, taking footage to make your Pop Video and/or sometimes try a solo.
Finish off in Club BB using lasers, smoke/fog machine, LED strobes & spotlights, whilst seeing all your pics on a super cool gallery display and blow the candles on the cake if you brought one.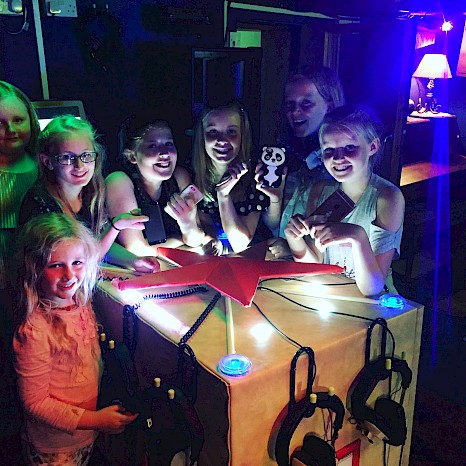 4 Packages to choose from
1. BRONZE - THE MOBO AWARDS PARTY - £160
2 hour party for up to 12 kids max
Sing 1 song as a group (produced at party)
Sing 1 Solo (or duet) (produced after party)
Photoshoot on red carpet
Laser Disco
1 FREE CD to birthday child
2. SILVER - THE BRIT AWARDS PARTY - £210
2½ hour party for up to 12 kids max
Sing 2 songs as a group (produced at party)
Photoshoot on red carpet
Laser Disco
1 FREE CD to birthday child
3. GOLD - THE GRAMMY AWARDS PARTY - £280
3 hour party for up to 12 kids max
Sing 1 song as a group (produced at party)
Make a Pop Video (produced after party)
Photoshoot on red carpet
Laser Disco
1 FREE CD to birthday child
4. PLATINUM - THE PSP BONUS AWARDS PARTY - £340
3½ hour party for up to 12 kids max
Sing 1 song as a group (produced at party)
Make a Pop Video (produced after party)
Sing 1 Solo (or duet) (produced after party)
Photoshoot on red carpet
Laser Disco
1 FREE CD to birthday child
How to Book
Call Roger on 07956 624376 who will answer any questions you may have, and he'll book you into the diary. You can also email him at Roger@PopStarParty.rocks