Ages:
All the family
Under 5s
School age
Adults
Venue:
Outdoor
Cost:
Paid
Description
*** COVID-19 UPDATE ***
Bosworth Water Park is open to the public. The cafe is open as a takeaway only until the end of the season.
Visit the website for further updates.
---
About Bosworth Water Park
With more than 50 acres of open parkland, scenic walks and lakeside beaches, Bosworth Water Park is an all year round destination, with seasonal activities and events designed to entertain the whole family. With gorgeous sandy beaches, it's the ideal place to relax, go paddling or build a sandcastle in the summer months.
Bosworth Water Park is all about a safe friendly environment for families to relax, have a great time and enjoy the moment. It doesn't matter whether your kids are toddlers or teenagers, there is something for everyone. Whether you fancy a quiet stroll with the dog or just want to be on your own. If you want to get away from the hustle and bustle of daily life. With this much space, you can find a secluded lakeside spot to chill, picnic and get away from it all – even if it's just for an hour.
---
Things to do at Bosworth Water Park
Bosworth Water Park has so many activities for your family to enjoy - whether it's a few peaceful hours or a longer adrenaline fuelled stay!
The Black Pearl Adventure Playground
The Black Pearl Adventure Playground provides fun and exercise in a safe and secure environment for children. The large wooden pirate ship play structure gives kids hours of entertainment with slides, swings, crows nest and much much more…
The pirate ship, Castle and natural logs entertain the older children, leaving the younger children entertained by the new 2-6 year old play area.
The Blue Lagoon Beach
The crystal clear blue water invites the kids in for a paddle, leaving parents relaxing on the golden sand or grassed areas surrounding the lagoon. Don't forget your buckets and spades!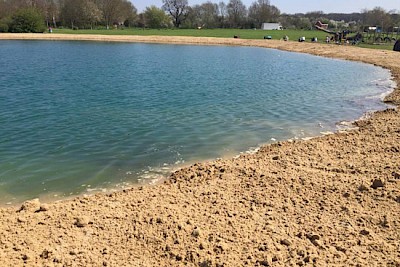 Waters Edge Cafe and Bar
With stunning views over the main lake it's the ideal spot to enjoy something to eat or have a refreshing drink from the bar. The Cafe prides itself on serving quality food whilst still offering/great/value, making it the ideal venue for the whole family. It also offers a take-away service on all menu options along with filled rolls and hot drinks.
Throughout the summer and all holiday weekend's season, the bar is open late into the evenings. Serving cold beer and wine along with spirits and soft drinks it's a great place to sit back and relax.
Pirate Island Crazy Golf
Whether you are playing for fun or trying to settle a family dispute, it's guaranteed to test the skills of old and young alike. Score cards are available in the office and at only £3.00 per person (Family of 4 £10) it's also great value for money.
---
Water Sports at Bosworth Water Park
With a variety of equipment available to hire we can get the whole family out on the water. The equipment is available from 10.00am to 4.00pm, seven days a week from April to October.
Stand up paddle boards
A combination of kayaking and surfing, this sport is fundamentally standing on a surfboard and using a paddle to propel yourself. Stand Up Paddle boards are longer, wider, and more buoyant than traditional surfboards, which enables you to comfortably balance on them.
Private Watersports Lessons
Whether you are a beginner or a more experienced sailor, a private session with one of our RYA or BCU- qualified instructors is just the thing to help you take your sport to the next level.
Pedalos
If it's family fun on the water you are looking for, why not rent one of our new state-of-the-art pedalos. At just £15 for half an hour of family fun they are great value! Each pedalo can carry a party of four people.
Dogs
Dogs must be kept on a lead. There are specific areas where dogs can be exercised, but under no circumstances must they be allowed to foul the beach areas, car park, children's play areas or campsite.
Opening Times
Bosworth Water Park is open from 9am until 6pm with the last entry at 5:30pm
---
For more information, visit the Bosworth Water Park website here.
Open hours
| | |
| --- | --- |
| Monday | 09:00 - 18:00 |
| Tuesday | 09:00 - 18:00 |
| Wednesday | 09:00 - 18:00 |
| Thursday | 09:00 - 18:00 |
| Friday | 09:00 - 18:00 |
| Saturday | 09:00 - 18:00 |
| Sunday | 09:00 - 18:00 |