Ages:
All the family
Under 5s
School age
Adults
Venue:
Outdoor
Cost:
Paid
Description
Action and adventure in the heart of Cannock Chase!
Cannock Chase Forest
Cannock Chase Forest is an excellent starting point for a woodland adventure on Cannock Chase. From the Midlands best mountain bike trails or leisurely woodland walks, get the kids to let of some steam on one of the adventure play areas or take in the scenery up high from the platforms of Go Ape, Cannock Chase Forest has something for all the family.
A particularly popular location for mountain biking, Follow the Dog, The Monkey Trail and Stile Cop bike park offer the thrill-seekers the perfect routes to hone their off road biking ability. If you have just purchased your first bike or you have a wobbly youngster mastering their balance bike, take the whole family on one of the family adventure routes.
For those looking for something more sedate, the woodland is a secluded haven for wildlife enthusiasts or discover the latest children's activity trail, usually based around a popular children's novel and once all the fun is done, make sure you stop by Grounds café for a refuel.
---
Things to do at Cannock Chase Forest
Walking trails
From a gentle stroll around the Ladyhill Trail with lots to see and do, to longer walks around the picturesque Fairoak or Sherbrook valleys, there's a great day out for everyone. Trail maps are available to purchase from Go Ape, Grounds café & Cannock Chase Cycle Centre for £1.50.
The below is one of our favourites:
The Fairoak Trail is a 2.5 miles circular trail which starts by meandering through the forest, opening out into the Fairoak Valley and our magnificent Fairoak Pools. The Fairoak valley and pools are a rich and important habitat that many wildlife species call home. There is a good chance you will spot swans, ducks and grey squirrels on this walk and if you are really lucky a herd of deer!
The walk is surfaced and there are moderate slopes in places. There are some stepping stones across a stream near the end of the walk which are unsuitable for buggies and wheelchairs to cross. You can avoid these by following the path between the pools and returning the way you came.
Download the map here.
Gruffalo Orienteering
Try our fun, navigational challenge at Cannock Chase Forest using a simple map to find 12 Gruffalo markers hidden in the deep, dark wood. If you're feeling competitive, choose to run, walk (or skip!) the course against the clock.
Before you begin the course, pick up a Gruffalo orienteering leaflet with a certificate and map for just £1.50.
Gruffalo Sculpture
If you venture into the deep dark wood you may bump into the Gruffalo from Julia Donaldson's hit story. Each wooden sculpture has been carved in a different position - have you found the ones in our other forests? Post your Gruffalo photos on the Facebook page.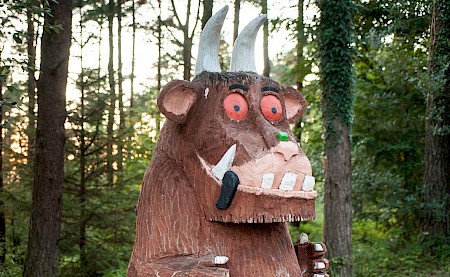 Children's play area
Cannock Chase Forest is renowned locally for its free play facilities. Scramble, slide and swing your way around our play area. If you are feeling brave you can develop your balancing skills! Venture along our walking trail to enter a fairytale of your own; keep a lookout for our three bears chairs, fairy trees and Gruffalo sculpture. Climb on top of our Play Houses and see what you can spot from the top.
If you all feel creative and want to test your older children, then set them a challenge in the shelter building area which is set underneath our towering pine trees. Alternatively, bring a ball of any size or shape for a kick about in our large grassy clearing and picnic area.
Cycling and Mountain Biking trails
From relaxing family rides through picturesque valleys to the dedicated single-track of Follow the Dog, the Monkey Trail and new intermediate blue trail there's a great day out for everyone.
Cycling trail maps are available to purchase from Go Ape, Grounds café & Cannock Chase Cycle Centre for £1.50. Or click here to download.
Picnics and barbecues at Cannock Chase
Enjoy a tasty treat in the forest at our beautiful picnic area; just bring along good food and company! Pingle Slade, known as our concert site, is a large open area within the Pine Forest. Perfect for picnics and ball games. Pingle Slade is a short walk from the car park/main visitor area. If you follow the signs for the Ladyhill trail this will bring you out to Pingle Slade.
Dog activity trail
Try your dog's ability at activities such as fetching, weaving and jumping. This exciting challenge is a great way to keep you and your dog fit and healthy with lots of fun!
Go Ape Forest Segway - an off-road adventure
Go Ape Forest Segways are the best fun you can have off-road, on two eco-friendly wheels, without having to pedal! You will receive training and get the chance to practice before you head out, with a safari guide, on our trails. You will use a mixture of twisty trails and wide open, straight tracks on this circular, hour-long adventure. Book now.
Go Ape Tree Top Adventure - children's high ropes adventure
Built for the whole family, this is the ultimate tree top experience of wobbly bridges, intricate crossings and an awesome zip wire finale in Cannock Chase Forest. The perfect high ropes course for kids as well as mum, dad, the grandparents, school groups and birthday parties. Book now
Go Ape Tree Top Challenge - fun, high ropes course
Challenge your inner daredevil! Whether you are looking for an activity day out for your family or a corporate team building day, Go Ape Tree Top Challenge will take you to the top of the skyscraping trees in Cannock Chase. Zip lines, nets, rope ladders and swings all add up to an experience you will be talking about for months. Book now
---
Parking at Cannock Chase
All Pay & Display machines accept coin and card payments. Please note the machines do not give change and do not accept virtual card payments.
Disabled parking available – normal parking charges apply. Members park for free with their annual pass.
| | |
| --- | --- |
| Up to 1 hour | £3.00 |
| Up to 2 hours | £5.00 |
| All day | £6.008 |
Cannock Chase Opening Times
January - 7:30am to 5:00pm

February - 7:30am to 6:00pm

March - 7:30am to 6:00pm

April - 7:30am to 8:00pm

May - 7:30am to 9:00pm

June - 7:30am to 9:00pm

July - 7:30am to 9:00pm

August - 7:30am to 9:00pm

September - 7:30am to 8:00pm

October - 7:30am to 7:00pm

November - 7:30am to 5:00pm

December - 7:30am to 5:00pm
Open hours
| | |
| --- | --- |
| Monday | 07:30 - 17:00 |
| Tuesday | 07:30 - 17:00 |
| Wednesday | 07:30 - 17:00 |
| Thursday | 07:30 - 17:00 |
| Friday | 07:30 - 17:00 |
| Saturday | 07:30 - 17:00 |
| Sunday | 07:30 - 17:00 |