Octanauts Swimming Classes | Tiverton School
Groups & Classes
Next 3 dates:



16:00 - 18:00





16:00 - 18:00





16:00 - 18:00


View all
Description
Octanauts are a community focused swim school in Coventry. At Octanauts Swim School they believe swimming is such an important life skill and want every child to develop a love for the water and remain safe in their surroundings.
---
Octanauts Swimming Classes in Coventry
Octanauts swimming lessons are structured and progressive whilst also being in an enjoyable supportive environment. Octanauts has an experienced, highly qualified team dedicated to meeting the needs of their swimmers and working with families to achieve the very best results. Their aim is to remove any parent-child battles, promoting safe, active, healthy children with a life-long love of water.
Venue: Tiverton School, Whitley, Coventry, CV3 4DE
Days: Every Week Day between 4pm and 6pm. Term time only. View the timetable here.
Age Range: Children's Group lessons are available from age 3+.
To book your class, contact the Octanauts team: by email, Facebook or by calling 07450 700754
---
What to Expect
Once you sign up for Octanauts swimming lessons, you will receive the following:
Small class sizes (maximum 4 at Tiverton Pool)
2 Team members at every lesson to support your child
All Equipment provided
Minimum of 25 minutes lesson each week with a fully qualified teacher
All Awards and Certificates
Managing Director with 20 years industry experience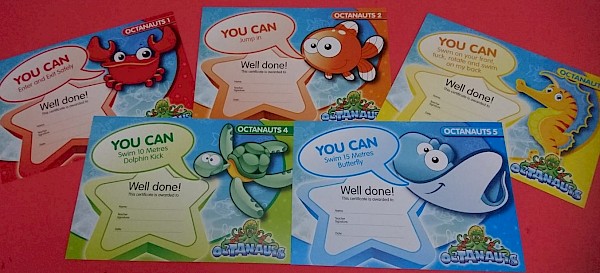 ---
Which Stage is best for my Child?
On The Octanauts website, you can read all the details about every stage, from Stage 1 through to Stage 10. Just visit this page and click on the coloured circles.
If you have any questions, or would like to discuss your child's needs, then don't hesitate to get in touch with the Octanauts team: by email, Facebook or by calling 07450 700754
---
The Pool at Tiverton School
The Swimming Pool at Tiverton School is a lovely clean space for your child to learn to swim. The venue is Covid Safe, just follow all the signs and instructions once you arrive.
---
Meet the Team
Nichola has been teaching with Octanauts since 2018, she is a popular teacher, leading the Tiverton classes. Nic is also Octanaut's dedicated Mermaids instructor. Nic will lead lessons at Tiverton Monday - Friday and also teach at the Jaguar Sports and Social Club on Saturday. As a Mum to 3, Nic enjoys spending her free time with her family.
---
To book your place, contact the Octanauts team: by email, Facebook or by calling 07450 700754