Ages:
All the family
School age
Adults
Venue:
Outdoor
Cost:
Paid
Description
Quarry Park Disc Golf is situated on the edge of Leamington Spa. It is a unique facility in Britain, in that the land was purchased and landscaped specifically for disc golf.
Disc Golf is a great sport or activity for all ages and abilities, and Quarry Park has been meticulously designed to be fair to beginners and challenging to pros.
Quarry Park Disc Golf | Play Frisbee near Coventry
Who can play?
Everyone is welcome - from family groups and tourists looking for a fun frisbee activity, to professional level players from abroad.
Disc golf is great for group outings too - such as stag parties, sports clubs, scout groups, office outings, church groups, round table etc.....
What is Disc Golf?
Disc golf is a lot of fun and is similar in concept to traditional ball golf. The object is to get a frisbee disc into a basket in as few shots as possible.
Course Map
Click the map below for full details about the course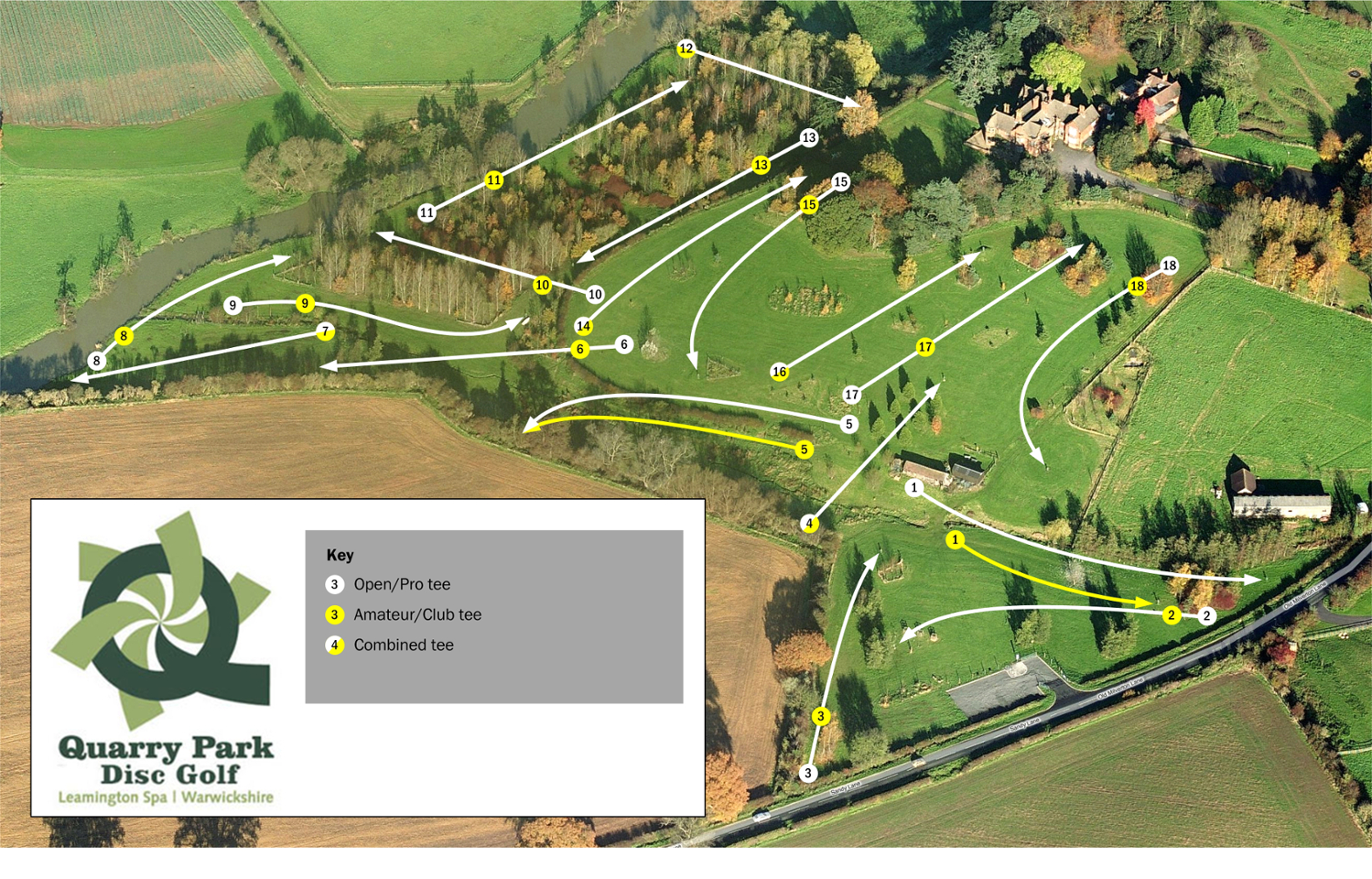 Find out more
Check the FAQ's page for answers to frequently asked questions.
.
Opening Times
Weekdays 12pm to sunset

Weekends 10am to 6pm

Weekday opening will reduce in October
Group Sizes
There is a strict maximum group size of 6, which complies with government social distancing rules, but is also essential to enable a steady flow of groups around the course.
Visit the website to read further rules around social distancing.
Prices
Short course (17 holes of 45m)
Regular Course (18 holes of 90m)
Booking
Please make your booking and payment via this link.
Parking
The course can be very busy at weekends, and capacity is limited by available parking space, so please do not bring a picnic as your parking space may be needed by someone who has come to play the course.
Open hours
| | |
| --- | --- |
| Monday | 12:00 - 19:00 |
| Tuesday | 12:00 - 19:00 |
| Wednesday | 12:00 - 19:00 |
| Thursday | 12:00 - 19:00 |
| Friday | 12:00 - 19:00 |
| Saturday | 10:00 - 18:00 |
| Sunday | 10:00 - 18:00 |