Description
Developed with the help of Speech and Language experts, the "Sing and Sign" programme has taught tens of thousands of parents across the UK how to sign with their babies and encourage amazing early communication.
Sing and Sign Classes in Coventry
Before they are able to speak, babies naturally start to use a combination of gestures and sounds to help their parents understand them. For example pointing, shaking their head, clapping hands and waving 'bye-bye' are all natural first signs. Introducing extra gestures to your baby such as milk, more, nappy change and tired can help your baby to communicate before speech, reduce frustration and is wonderfully rewarding and fantastic fun for both parent and baby. You will be amazed by what your baby is capable of telling you before being able to talk!
Click this link to book your class.
---
Timetable
Mondays
Address: The Barn at Berryfields, Meriden, CV7 7LB
Times: Stage One 9:45am | Stage Two 10:30am
Tuesdays
Address: Burton Green Village Hall, Hodgetts Lane, Burton Green, CV8 1PH
Times: Stage One 9:45am | Stage Two 10:30am
Wednesdays
Address: Kinderland Party, Our Lady of Assumption Social Club, Tile Hill Lane, CV4 9TA
Times: Stage One 9:45am | Stage Two 10:30am
Thursdays
Address: The Royal British Legion, 316 Station Road, Balsall Common, CV7 7EF
Times: Stage One 9:45am | Stage Two 10:30am
---
Book your class today!
Stage 1 is suitable from for 6 months - 13 months
Stage 2 is suitable for 14 months plus)
Click this link to book your class.
If you have any questions, get in touch with Zoe via Facebook, Instagram, or drop her an email anytime!
---
Sing and Sign - What to Expect
Sing and Sign classes teach baby signing through music, songs, nursery rhymes and lots of fun interaction with musical instruments, props and the mascot Jessie Cat. Signs are used to help reduce frustration and encourage early communication between you and your baby.
In class, you will sing about what goes on in a baby's world. Each week a different topic will be covered such as eating, bath time and nappy changes, going out to play, hiding games, bedtime and lots more. There is a high standard of educational content but classes are delivered in a relaxing, enjoyable and unpressured way for you and your baby to learn. You can read more here.
Baby signing with Sing and Sign is easy because it's fun! Your baby will recognise important words sooner and can use the signs to "talk" to you before speech. Check out the Sing and Sign in Action page to see some of the amazing results.
---
Welcome to Sing and Sign Coventry North!
Hello! My name is Zoe and I am a mother of three girls. Ellen, Megan and Millie. There is quite a gap between my girls, Ellen is nearly 18, Megan is 13 and Millie will be two in February!
When my 13 year old was a baby, I discovered a signing group and loved it! Roll on the years and then I found Sing and Sign! It has been an amazing opportunity to watch my youngest develop her language skills. I loved it so much that I wanted to help others learn, so I became a Franchisee and Sing and Sign Coventry North was born!
I am a Level three qualified Teaching, Learning and Support Worker, and I have had over 9 Years experience with children. (18 years if you include my own!)
I can't wait to see you in one of my classes soon. Click here to book your place! If you have any questions then don't hesitate to get in touch. Follow my page on Facebook, Instagram, or drop me an email anytime. See you soon!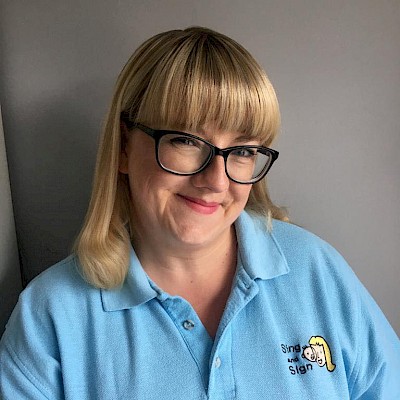 ---