Ages:
All the family
School age
Adults
Venue:
Indoor
Cost:
Paid
Description
*** IMPORTANT ***
Please note, this venue is closed from Thursday 5th November. If you are looking for things to do in Coventry, then head to www.coventryrocks.co.uk and browse our collections:
You can also follow us on Facebook and Instagram for all the latest updates. Take care and stay safe.
---
Re-opening from the 25th of July - there are a number of changes, so click this link and find out how you can re-gain access to your favourite bouldering centre.
Booking system - Following new government guidelines there is a new a booking system alongside a capacity cap of 40 people to ensure all climbers are able to socially distance easily. Everyone wanting to climb, including members and punch card holders, MUST book their place via the website before arriving to the centre. You will be able to book a 2 hour slot once per day and pay online before you come to minimise contact with staff. In-order to comply with these new regulations they can now only allow anyone looking to climb, or anyone directly supervising a child, into the centre. CLICK HERE TO BOOK NOW
---
The Ballroom Climbing Wall
The Ballroom Climbing Wall is a dedicated bouldering centre for all abilities in Coventry, a place where anyone aged 5+ can come and give bouldering a go.
We take pride in the fact we have over 200 bouldering routes across 700sqm of climbing surface, created by the country's best climbers and setters.
Find us in the city centre opposite West Orchards shopping centre. Best place to park is either West Orchards (beware it shuts after 5:30!) or Bishop Street is a 5 minute walk.
We look forward to welcoming you to our centre - all you have to do is book your 2 hour time-slot by clicking here and fill in the online registration form (and make sure the parent or legal guardian has done so for any U18s), rock up and we will do the rest!
Join our Highballers kids club
We help kids become enthusiastic and competent climbers. We teach NIBAS which is a structured programme designed to improve confidence and develop skill regardless of ability. The course consists of 6 sessions which can be booked flexibly over a period of 8 weeks for £48. Or if you would just like to try it, book on to any of our sessions at the weeknd as a one off. Click here for more information.
Beginner's guide to bouldering at The Ballroom
If you are new to bouldering, this class is 60 minutes of fun that gets you up to speed on our facility and the basics of bouldering safely at The Ballroom. At the the end of the class you should have all of the tools you need to climb and use the gym on your own. We think this is the perfect course for anyone who is new to climbing or who has taken a long break and just wants to get back into it with the help of one of our experienced coaches. Click here for more information.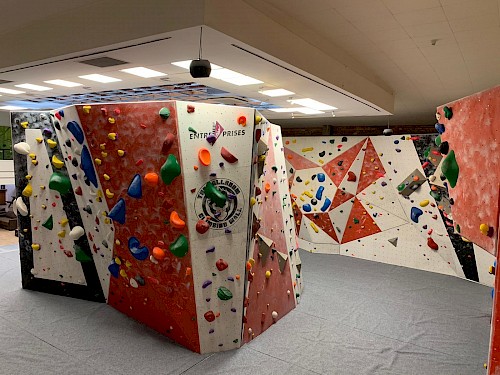 Prices
Peak day pass - Adult / Concession / U11 - £9 / £7.50 / £6.50
Off-peak (12-4pm Weekdays) Day entry - Adult / Concession / U11 - £7.50 / £6.50 / £6.50
Family tickets (1 adult 2 Kids) Peak / Off-Peak - £20 / £18
Other costs - Registration fee / Shoes / Chalk bag - £3 / £3 / £1.50
10 Climbs for the Price of 8 Adult / Concession / U11 - £72 / £60 / £52
Unlimited climbing Adults 1 / 3 / 12 Months - £49 / £135 / £395
Unlimited Climbing Concession 1 / 3 / 12 Months - £40 / £110 / £330
Unlimited Climbing U11 1 / 3 / 12 Months - £30 / £70 / £225
12 Months *Direct Debit* Adult / Concession / U11 - £35/30/20
Booking
The current government guidelines mean that we have to use a booking system to control the number of people in the building at any one time. Therefore all users of The Ballroom Climbing Wall must now book in a 2 hour time slot. You can book one 2 hour slot per day - this is to ensure all our community get the opportunity to book in whilst we are at a limited capacity.
All supervisors and new climbers to our centre will need to fill in the online waiver before they come. Click here to fill it in. Make sure to click preview document so you can read all of the conditions of the centre before signing! We will be reviewing our capacity and need for a booking system on a regular basis, and we will update our website and social media when changes to our policy are made.
Opening Hours
Mon - Fri: 12pm - 10pm
Saturday: 10am - 8pm
Sunday: 10am - 6pm
Bank Holidays: 10am - 8pm
Under 18's
Please note, all under 18's will need adult supervision. One adult can supervise a maximum of two children.
Parking
The best place to park is either West Orchards (beware it shuts after 5:30!) or Bishop Street is a 5 minute walk.
Open hours
| | |
| --- | --- |
| Monday | 12:00 - 22:00 |
| Tuesday | 12:00 - 22:00 |
| Wednesday | 12:00 - 22:00 |
| Thursday | 12:00 - 22:00 |
| Friday | 12:00 - 22:00 |
| Saturday | 10:00 - 20:00 |
| Sunday | 10:00 - 18:00 |