Ages:
All the family
Under 5s
School age
Adults
Venue:
Outdoor
Cost:
Free
Description
Follow that Hare Sculpture Trail
An Art and Nature Trail across the University of Warwick Campus. The trail incorporates several permanent sculptures from the University of Warwick Art Collection. The map can be downloaded here.
It can take between 2 and 4 hours to walk the entire trail, depending on your walking speed and how often you stop! You don't have to complete all of the trail in one go, you could choose the sculptures you want to see and create your own shorter route. You could also bring your bicycle and cycle around campus!
Walking Through Time Trail
There are two walking routes across the campus - 'The Highway Robber Trail' and 'The Dinosaur Trail'. Field journals are available for the two routes, providing lots of children's activities related to the trails and plenty of room to draw. The maps can be downloaded here.
The Dinosaur Trail is 0.85 miles (around 20 mins) and The Highway Robber Trail is 1.5 miles (around 30 mins).
The Good, The Bad and The Ugly
This s a group of three corten steel dinosaurs, each measuring more than eight metres in length and towering up to seven metres high. They resemble two huge children's model-making kits and appear clumsy and lovable.
The trail is open all day every day of the week, all year round and it is completely free to take part. It's open to members of the public and University students and staff.
Warwick Arts Centre love to see your adventures across campus – so don't forget to tag your Instagram photos and tweets with #followthathare and mention @warwickartscentre.
Parking
On arrival at the University of Warwick, follow the highway signage for Central Campus. There are multiple parking options available on Central Campus, all close to Warwick Arts Centre. Please note: the multi story parking on Central Campus does not have a lift.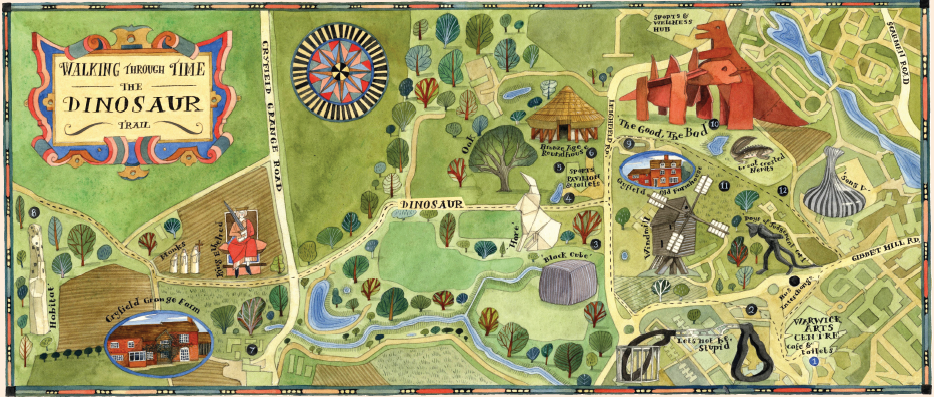 Open hours
| | |
| --- | --- |
| Monday | Open |
| Tuesday | Open |
| Wednesday | Open |
| Thursday | Open |
| Friday | Open |
| Saturday | Open |
| Sunday | Open |