Highly Sprung are the UK's leading physical theatre company making work for and with children and young people.
Highly Sprung | Performing Arts Classes in Coventry
Highly Sprung offer a new approach to performing arts classes for children and young people aged 6-19.
Through unique weekly workshops and regular performance opportunities, sessions use physical theatre, drama and dance. Empowering your child to develop their imagination and creativity and have fun!
Combining drama, speech and movement for a uniquely physical approach to theatre-making, Sprung Youth takes participants on a creative journey, giving them the time and space to develop their own voice. Sprung is a safe environment for young people to play and explore. A place where imagination is celebrated and anything becomes possible.
Sessions available for ages 6 - 19
Thursday and Friday evenings
Takes place at Daimler Powerhouse, Coventry, CV1 4DQ
Click this link! to book your place!
---
Performing Arts Classes for Children in Coventry
Highly Sprung offer a variety of classes for different ages:
SPRUNG STARS for Ages 6-10 (in schools years 2-5) - Fridays 5pm - 6.30 pm
In SPRUNG STARS, children are guided by their imaginations, developing story-telling skills through drama and games. Exploring dynamic movement, independent creative thinking and building confidence, children are encouraged to begin creating their own movement and dance.
SPRUNG LAUNCH for Ages 10-13 (in school years 6-9) - Fridays 6.30 - 8.30pm
SPRUNG LAUNCH is focussed on developing talent and extending skills in dance, drama and physical theatre. Providing fresh new insights into devised performance where participants learn skills to enable them to make their own work. Script work is introduced and explored alongside a strong self-devised performance ethos; ideal for anyone working towards GCSE drama or dance.
SPRUNG ADVANCE for Ages 13-19 (school years 9 and upwards) - Thursdays 5.00 - 7.00pm
SPRUNG ADVANCE trains young performers work to professional standards on projects in site-specific work, festival and studio settings. Contributing to devising script work for performance and developing a strong sense of ensemble, fusing dance and drama together, supporting young people as part of studies at GCSE and higher levels. Producing at least one full-scale performance each year including the headline performance at The Physical Fellowship.
Classes run on the same schedule as the school term.
FREE TASTER SESSIONS are available for each session to explore before you commit. Click this link! to book your place!
---
---
What do Sprungs and parents say?
"Beautiful, emotionally intelligent theatre from a group of dedicated young people."
"It was an escape… you could be creative and be yourself."
"Highly Sprung provides young people with so many unique, challenging experiences that quite simply are not found elsewhere."
"The sense of individuality and confidence is something you then carry with you far beyond the weekly sessions and straight into your adult life. "
---
Prices
Sprung Stars and Launch : £8 per session
Sprung Advance: £8.50 per session
Please note: Highly Sprung aim to ensure everyone can access Sprung Youth, and so bursaries are available for those in need. Get in touch to discuss your pricing options.
---
Get in touch!
Explore the Highly Sprung website and contact the team about Sprung Youth here. You can also email team@highlysprungperformance.co.uk, call 07810 263355, or find the team on Facebook and Instagram!
---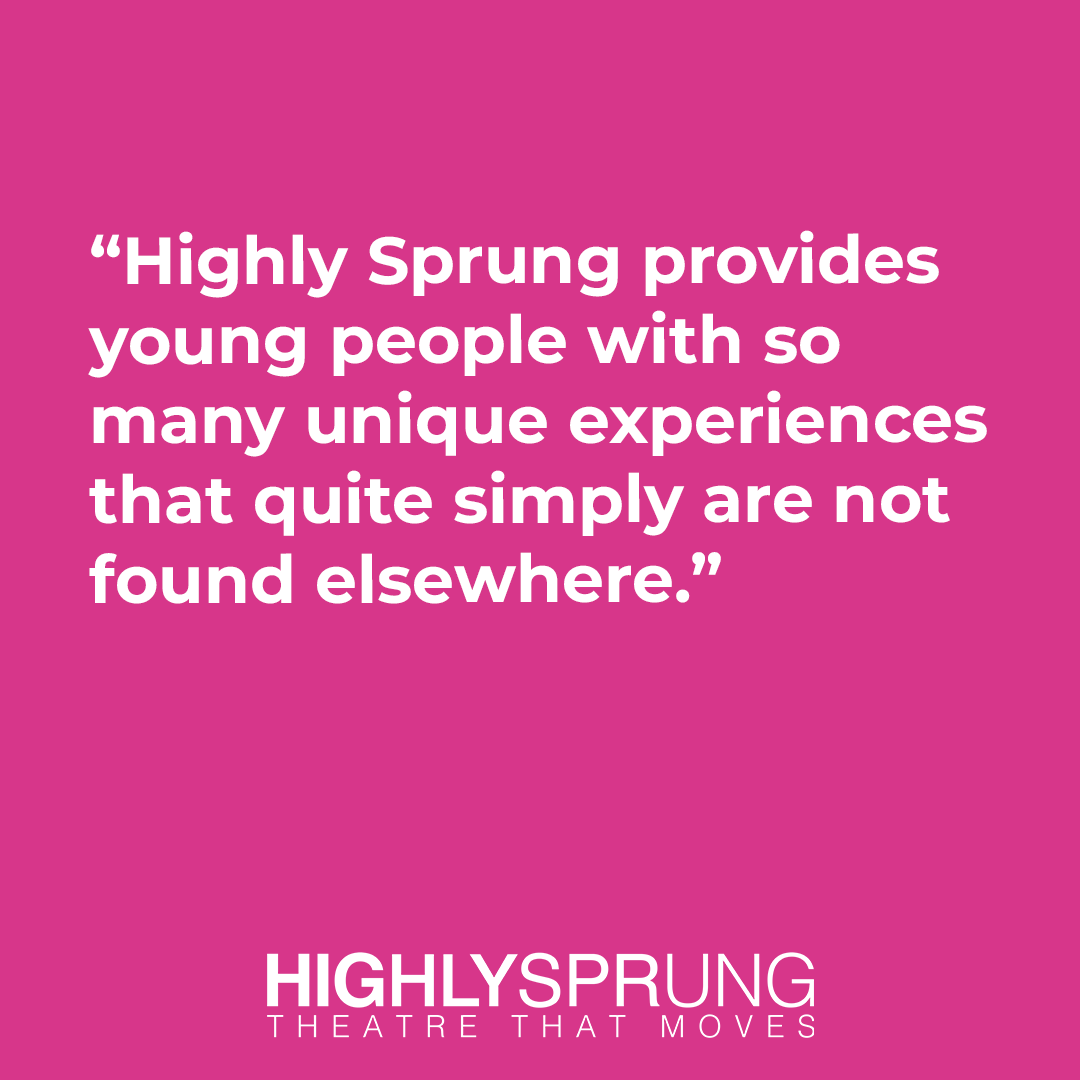 Contact details
We aim to keep the information on Coventry Rocks accurate but if you have noticed an error please let us know
Suggest an edit