Ages:
All the family
Under 5s
School age
Adults
Venue:
Indoor
Cost:
Free
Swanswell Park and Pool has a tree lined ornamental pool with fountains, and a recreation space right next to the city centre. It has been refurbished to include play equipment for younger children and the very latest in outdoor exercise equipment - something for all ages to enjoy.
Swanswell Park and Pool
Children's play area
The children's play area is fully enclosed, and includes a multiplay shipwreck, cradle swings, nest swing, a see-saw and spinning disc.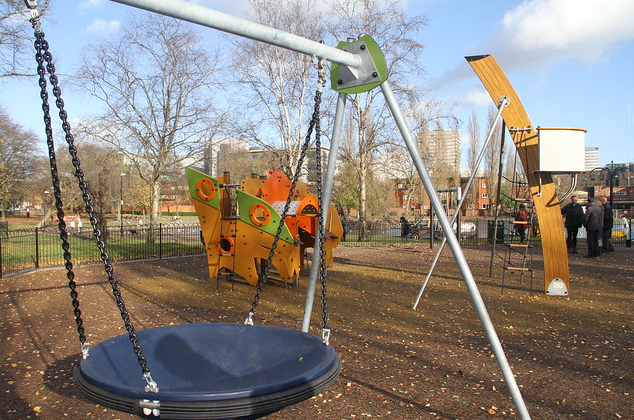 Outdoor gym
Outdoor exercise equipment can be adjusted to suit age and ability providing work out opportunities for everyone. The equipment includes spinning cycles, steppers, high pulleys and a leg press unit and are grouped to allow people to work out together as they cross the park.
The History of Swanswell Park
The site of Swanswell pool is suspected to have originally been a seasonally wet, marshy area in the Sherbourne valley. Permanent ponds may have naturally formed to create not only the Swanswell pool but water bodies which gave their name to Pool Meadow and the Bab Lake. The pool was originally fed from natural springs including springs in the grounds of what was once the Coventry and Warwickshire Hospital (on the far side of Stoney Stanton Road). Following the building of a new block in the Coventry and Warwickshire Hospital in the 1950s, a surface sewer was laid which linked up the various sumps and wells which had formerly fed the pool. This was subsequently diverted into the Springfield Brook which itself was culverted in the 1960s and still runs beneath the eastern side of the pool.
Swanswell Park in the 21st Century
In more recent times, the pool was dredged to remove many tons of silt and debris from the base of the pool. In early 2012, following concerns with the condition of fish in the pool, the pool was officially registered as a fishery and hundreds of carp, rudd and roach were removed along with dozens of goldfish. Many of the wilier large carp escaped however, and countless numbers of fish remain! In 2015, Coventry City Council improved the park thanks to funding from nearby housing developments. Work included reinforcing the sides of the island, new playground and fitness equipment, new street furniture and new entrance features.
How to get to Swanswell Park
The park is a short walk from the Transport Museum, and located next to White Street (CV1 2DS).
The park is accessible by the following bus routes:
4 (Tesco Arena),

13c (Willenhall),

21 (Wood End)
Opening Hours
Swanswell Park is open from dawn till dusk.
Opening Hours
| | |
| --- | --- |
| Monday | 06:00 - 20:00 |
| Tuesday | 06:00 - 20:00 |
| Wednesday | 06:00 - 20:00 |
| Thursday | 06:00 - 20:00 |
| Friday | 06:00 - 20:00 |
| Saturday | 06:00 - 20:00 |
| Sunday | 06:00 - 20:00 |
Contact details
We aim to keep the information on Coventry Rocks accurate but if you have noticed an error please let us know
Suggest an edit