Ages:
All the family
School age
Adults
Venue:
Indoor
Cost:
Free
Description
Sgt. Bilko's Vintage Emporium is a unique venture situated in Fargo Creative Village in Coventry.
Sgt. Bilko's Vintage Emporium
The Emporium specialises in vintage and modern film, stage and television memorabilia with a strong emphasis on everything 'cult' and caters for a wide range of tastes.
Offering a varied and revolving selection of rare autographs, books, magazines, FOH stills, DVD/Blu-Ray's, collectors toys, models, limited editions, framed photos, children's toys, trading cards, soundtracks, quad posters, comics and standees.
The Phil Silvers Archival Museum
Sgt. Bilko's Vintage Emporium is also home to THE PHIL SILVERS ARCHIVAL MUSEUM. The Museum is dedicated to the life and work of actor/comedian Phil Silvers and houses a generous display of personal effects and items, posters, photographs, letters, books and memorabilia.
Find out about tickets and entry here.
Parking - The nearest parking is:
Far Gosford Street, CV1 5DT (18 spaces)
Paynes Lane, CV1 5LN (97 spaces)
Whitefriars Lane, CV1 2DT (135 spaces)
Grove Street, CV1 5PS (238 spaces)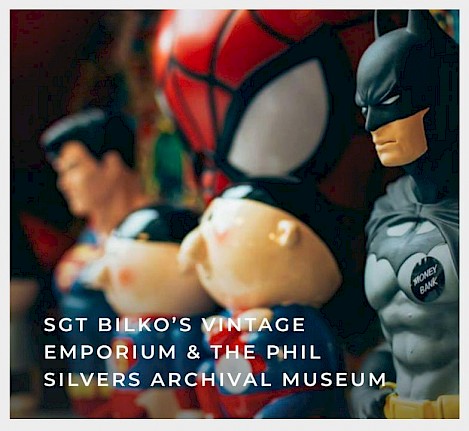 Open hours
| | |
| --- | --- |
| Monday | Closed |
| Tuesday | Closed |
| Wednesday | 11:00 - 16:00 |
| Thursday | 11:00 - 16:00 |
| Friday | 11:00 - 16:00 |
| Saturday | 11:00 - 16:00 |
| Sunday | 11:00 - 16:00 |