Description
Baby Massage, Sensory Play, Sign Language, Baby Yoga, Music, Physical Play, Bubbles and more! Tots Play offer all of your Baby & Toddler class needs in one!
Tots Play Coventry
Multi-Activity, Multi-Sensory classes for Babies and Toddlers
Tots Play Coventry offer a varied programme of activity classes and resources for babies and toddlers, designed to provide not only age appropriate learning experiences for your child, but also exciting, interactive play sessions for you both. A place where you can take time to enjoy those special moments together!
Classes are suitable from Birth to 5 years, and are split across the following groups:
Baby Development Course - Birth - 6 Months (0 mths - 6 mths)
Discovery Tots - 8 weeks - actively crawling (2 mths - 9 mths)
Social Tots - Active crawling - 3 years (8 mths - 3yrs)
Action Tots - 2-5 years (2yrs - 5yrs)
Click here to see the timetable and sign up for a session!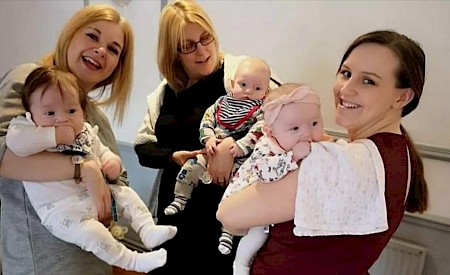 ---
Tots Play Coventry
Established in 2016, Tots Play Coventry is run by Laura, who is a Mum of 4. She brings together her experiences of being a mother and an Early Years Practitioner, to provide the support and understanding you need to get the most from the Tots Play programme and from this special time in you and your child's life.
"I remember being a first time mother all too well and the insecurities that came along with it. I especially remember feeling very apprehensive about attending classes with my baby for the first time; what if they cry, or need feeding, or have a massive poo explosion in the middle of the class?! Please allow me to reassure you that my classes are very relaxed and informal. Whatever baby needs right there, right then, just go for it!"
A regular class is a great way to spend focused time playing together, learning new things and enjoying each other's company. But what kind of activity should you choose....? A Music Class? Massage? Physical Play? Baby Sign Language? Sensory Play? Yoga?
With Tots Play there is no need to choose! You, and your baby or toddler can enjoy all these experiences and more in one award winning programme.
Click here to read more, and sign up for a session!