Geocaching in Coventry
Published:
Categories
If you are looking for something different to keep the family entertained, then why not have a look into the world of geocaching!
Geocaching in Coventry
Geocaching is a worldwide treasure hunt, where you use an app on your phone to try and find hidden containers of all shapes and sizes. This is a free activity leading to hours (or possibly a lifetime!) of excitement and adventure.
Within 5 miles of Coventry there are over 250 containers waiting for you to find them!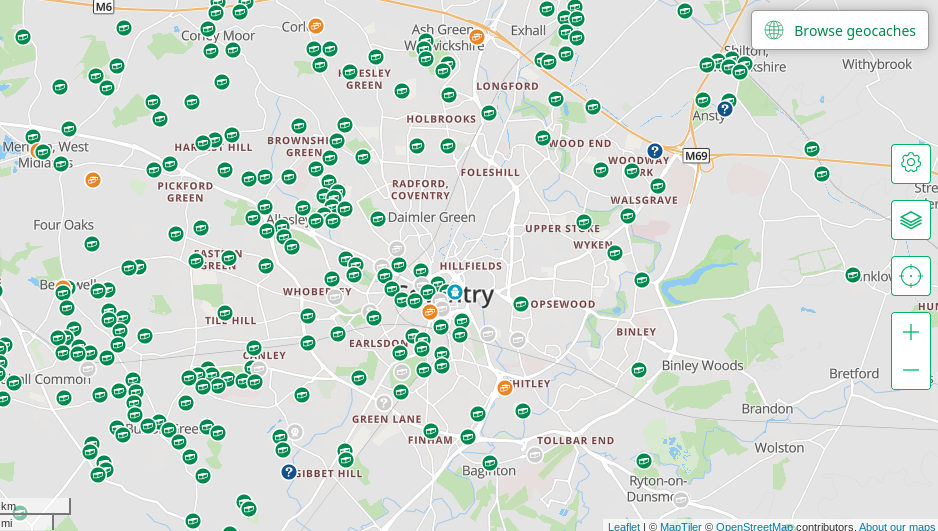 They can range in size from something as small as your little fingernail to something like a lunch box. You will be exploring in Woods, along towpaths and footpaths whilst learning interesting things about the places you may pass on a regular basis.
Each cache will contain a log book for you to sign and replace. Some of the larger caches will have little trinkets that you get to keep, as long as leave something in its place. These can be things like key rings and painted rocks. The real treasure comes from the adventures you have and the memories you create.
You can find out more about Geocaching by visiting www.geocaching.com.
---
Geocaches located in and around Coventry
Have you heard about the Sandstone formations at Corley rocks?
Did you know there is an old animal pound near the Memorial park?
Perhaps discover the forgotten orchard in Grayswood nature reserve?
Do you know where the layby is that was used by steam lorries to refill their tanks?
Here in Coventry, we have Adam Redshaw "The Geocaching Guy" who is the editor of the UK's geocaching magazine. He helps people get started and make the most of this fascinating activity.
---
How to Get Started!
This is how you can start your geocaching adventure:
Head to www.geocaching.com
Register for a free Basic Membership.
Visit the "Hide & Seek a Cache" page.
Enter your postal code and click "search."
Choose any geocache from the list and click on its name.
Enter the coordinates of the geocache into your GPS Device.
Use your GPS device to assist you in finding the hidden geocache.
Sign the logbook and return the geocache to its original location.
Share your geocaching stories and photos online.
There are many other levels to the game. Keep reading the guide to learn more!
At Coventry Rocks would love to hear all about your Geocaching adventures, so if you post on Social Media please tag us on Facebook or Instagram!
If you're looking to go out and about with your family, then head to www.coventryrocks.co.uk for some fantastic local outdoor spaces - from parks and walks, to nature reserves and family friendly walks! Find your fun at Coventry Rocks.
Enjoy!
---