Spooktacular Ideas for Halloween in Coventry
Published:
Categories
We love Halloween! It's a super fun time for all the family, to get dressed up, and spend some quality time together. We have compiled a list of fun activities to help you celebrate Halloween and keep your children entertained!
Spooktacular Ideas for Halloween in Coventry
---
Pumpkin Picking
Whilst it's easy to buy a pumpkin in the supermarket, it's great fun to pick your own! Pumpkin Picking is a great activity to do with the whole family, and there are lots of places around Coventry where you can pick the perfect pumpkin!
We have round-up our favourite local pumpkin patches here - Pumpkin Picking near Coventry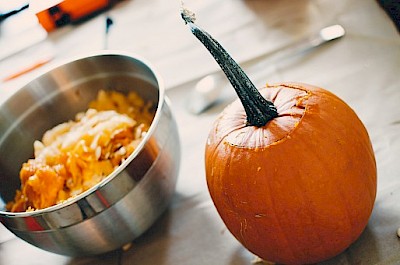 ---
Pumpkin Carving
Once you have chosen your ideal pumpkin, get your kids to come up with a fantastic, spooky design and carve it together! If you're looking for ideas for how to carve your pumpkin once it's picked, then scroll to the bottom of this guide for some of our favourites.
If you aren't too confident there are some easy and fun downloadable templates to help you cheat carve up the perfect pumpkin!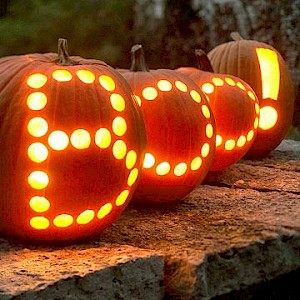 ---
Pumpkin Recipes
Don't throw out all that lovely pumpkin flesh - it's great for cooking! There are so many ways to use up leftover pumpkin, we love these ideas from BBC goodfood, including Pumpkin Muffins, an amazing halloween party centerpiece, Pumpkin Hummus and this warming Beef and Pumpkin Stew. Yum!
Click here to find loads of great recipes for sweet and savoury ways to use up leftover pumpkin!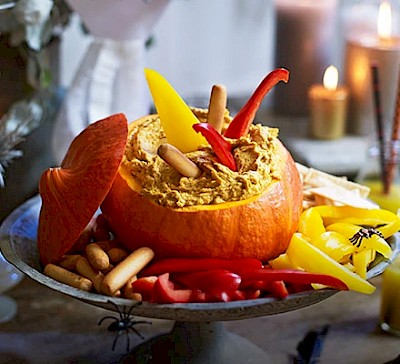 ---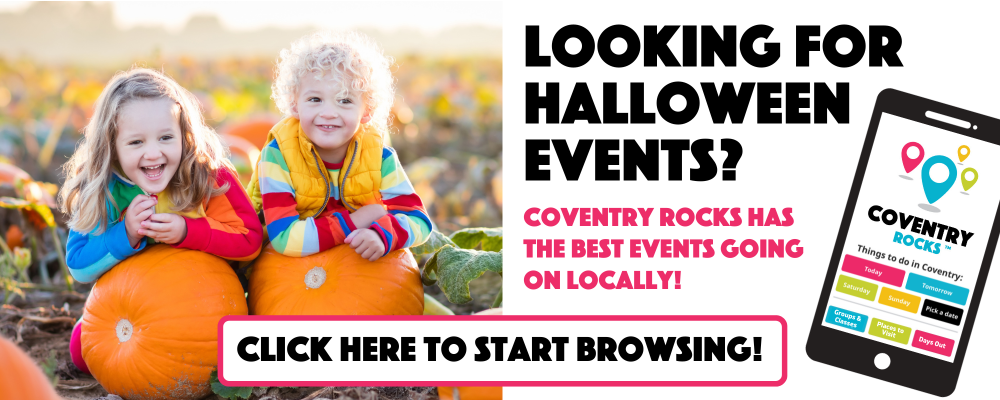 ---
Get out and about
Autumn is a lovely time of year to get wrapped up and enjoy a walk together as a family. We have round up some of our favourite Family Friendly Walks in this handy guide.
Why not find somewhere new to explore? Head to our Parks and Walks section to find a brilliant collection of local outdoor spaces. Click here to find somewhere new to explore!
Collect conkers for some epic conker wars and find out who will be the all-conkering hero! Check out our top spots to find conkers in Coventry here!
You could also collect leaves and do some leaf rubbings or use them to create some arty pictures, bats or ghosts.
Paint Halloween themed rocks and hide them in our local parks for other children find. You could even leave some for the fairies in Allesley Park!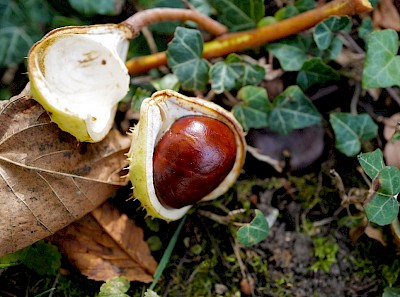 ---
Local Events
There are a number of spooky events happening in and around Coventry.... Click here to browse our collection of Halloween Events!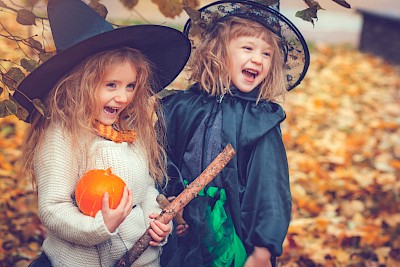 ---
Decorate your Windows
Your kids will really enjoy getting creative with crafts and colouring to decorate their windows. Then during Half Term week, children and families can go on a 'window walk' and find the most spooky house in the neighbourhood!
We have created some Halloween Printables to give you a head start. Just download and print the below PDF, and colour, paint, draw, collage and craft some masterpieces for your window!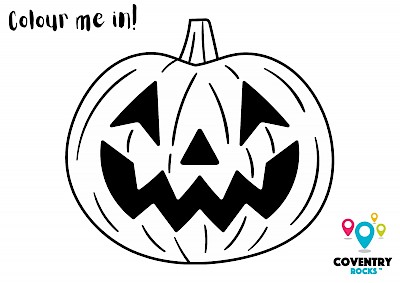 ---
Get Crafty
Create Halloween crafts together and see who can make the creepiest creations.
Try your hand at some Halloween themed origami, think scary monsters, biting lips, blinking eyes and more or maybe these lovely Halloween paper lanterns.
Another great idea is to create and send Halloween cards to family and friends that you may not be able to spook in person.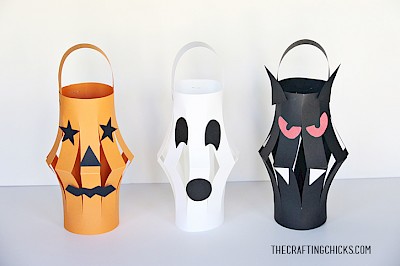 ---
---
Haunted House
Decorate your house for Halloween and use your crafty creations to create your own shop of horrors.
How's about a spider made out of pipe cleaners and hidden under a duvet or a paper skeleton in the cupboard!
Leave a scary message on your bathroom mirror, write in soap ' I'm watching you' or 'I know what you did' on the bathroom mirror. When the bathroom steams up, the message will appear.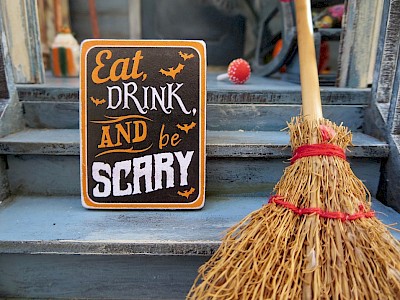 ---
Keep them Sweet!
Make your own toffee apples, bake Halloween cupcakes or have a go at apple-bobbing. Decorate Halloween cookies or have a go at some spooky shortbread using Halloween cookie cutters.
When you have created a feast of devilish delights you could have a go at reverse trick-or-treating! Take some of your tasty treats and deliver them to your neighbours!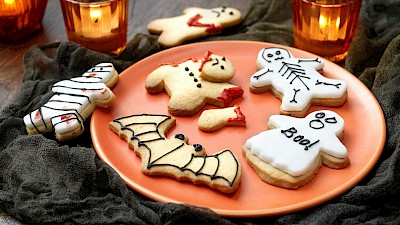 ---
Dress to impress
Paint each other's faces in a spooky style.
Create your own Halloween costumes, there are lots of costumes sale in the local charity shops right now that won't cost the earth.
We love these Printable Halloween Masks - they will keep the kids busy and will look fantastic too!
Why not hold a virtual Halloween fancy dress party - Zoom in your friends and family, sharing your wild and wacky costumes!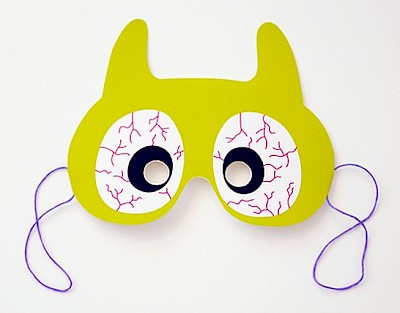 ---
Party Time!
Hold a Halloween kitchen disco and play some spooky tunes – The Time Warp is one of our favourites!
Have a game of Halloween bingo with your family. You can download some FREE Halloween bingo sheets or create your own.
Play pin the spider on the web… the spider closest to the centre of the web wins!
Have a spooky dinner party with wormy spaghetti followed by jelly brains! Or you could try baking sausage mummy dippers.
Follow up with some Halloween inspired mocktails. Cranberry juice works well for blood! Food colourings are great for green and blue and they're delicious served from a hollowed-out pumpkin!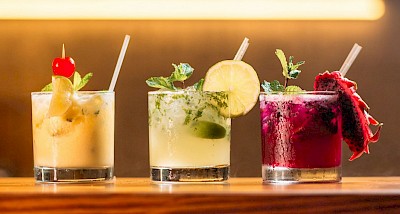 ---
Fright Night
Make your family laugh, jump (or cringe) by telling spooky jokes.
Hold a scary movie marathon, turn off all the lights and cuddle-up tight and see who gets goosebumps! There are loads of scary movies for kids now available on Netflix.
Tell some spooky stories; find a quiet corner of the house, grab some duvets and a torch and scare the living daylights out of each other with stories of things that go bump in the night!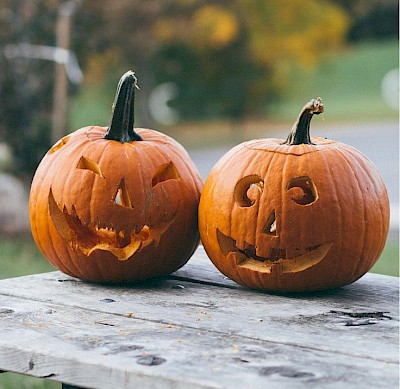 ---
We hope you have enjoyed our spooktacular ideas for Halloween and it's given you some inspiration to make Halloween great for your kids!
There are lots of other things to do on our website - including parks, walks, day trip ideas, and groups and classes. Visit Coventry Rocks to find your fun today!
---