Ages:
All the family
Under 5s
School age
Adults
Venue:
Indoor
Cost:
Paid
A haven of tranquillity for nature lovers, hikers and water enthusiasts, Shustoke Reservoirs are famous for their impressive wildflower displays. There is plenty to see and do at Shustoke Reservoirs, for all the family.
Shustoke Reservoirs | Family Friendly Walks in Coleshill
Opening Hours:
7:30am – 6:30pm from 1st April to 30th September
7:30am – 4:30pm from 1st October to 31st March.
Cost: £1.50 for parking for a day
Walking at Shustoke Reservoirs
A gentle walk around Shustoke is rewarded with beautiful views and an abundance of wildife to discover. Lower Shustoke offers a tranquil circular walk of around two miles although if you are looking for something longer the circular walk offers links to the Heart of England Way and also the Centenary Way.
The path around Lower Shustoke reservoir is mainly flat, and mostly fine for a pushchair, however the last section is a little bumpy and overgrown so just be aware if you're planning to take the pushchair around the whole route.
You can find a lovely 9km circular walk here - A medium difficulty following public footpaths and quiet lanes.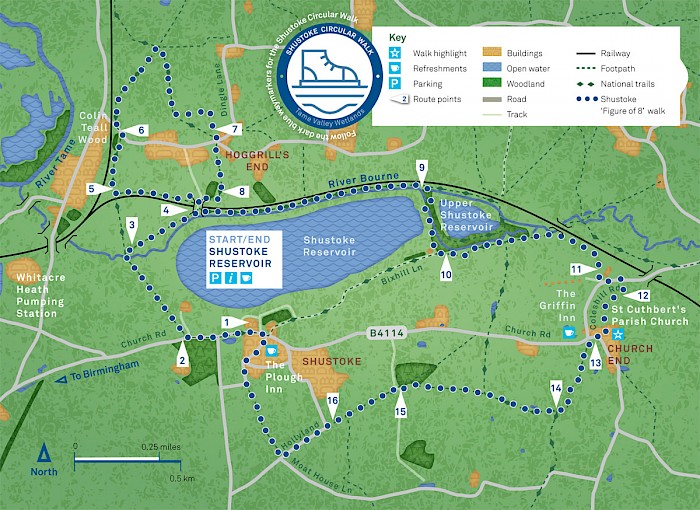 ---
Bird watching
Shustoke is an ideal place for visiting birdwatchers, with a vast variety of birds visiting everyday. In the spring the banks are covered in an impressive display of wildflowers including cowslips and lady's smock. Find out more details about bird sightings here.
---
Kids Activities at Shustoke Reservoirs
We love nature, because when we take care of nature, we take care of our water too! Whether it's bug hunting in your garden or a walk wildlife spotting, just being in nature is great for your kids health and wellbeing and encourages them to nurture wildlife too!
Visit the website for lots of fun activities suitable for KS1 (ages 5-7) and KS2 (ages 7-11). You can complete them online or print them.
Each week we'll have a new theme, so keep an eye out on the Facebook Page to see when the next ones are available!
---
Fishing at Shustoke Reservoirs
Take in the beautiful view as you sit and relax next to the water. Shustoke Fly Fishers operates the trout fishery located on Upper Shustoke.
---
Sailing
A small but popular sailing club operate on Lower Shustoke. More details about the activities are available on the Shustoke Sailing website.
---
Picnics
There's plenty of great spots for a picnic with family or friends whilst enjoying the great outdoors.
---
Dogs at Shustoke Reservoirs
At this site you're welcome to walk your furry friend.
---
Important information
Toilets at Shustoke Reservoirs: Please note that there are no toilets situated on site.
Accessibility: The site has a fairly flat two mile walk which is suitable for all. The last section is a little trickier for push chairs and wheelchairs, so take care.
Parking: There is one main car park which is situated next to Lower Shustoke. The car parking charge is £1.50 for the whole day. You can buy an annual parking pass for £21, or a multisite parking permit for £60.
---
Opening Hours
Monday

06:00 - 20:00

-

Tuesday

06:00 - 20:00

-

Wednesday

06:00 - 20:00

-

Thursday

06:00 - 20:00

-

Friday

06:00 - 20:00

-

Saturday

06:00 - 20:00

-

Sunday

06:00 - 20:00

-
Contact details
We aim to keep the information on Coventry Rocks accurate but if you have noticed an error please let us know
Suggest an edit