Let's Animate - Animation Studio in Coventry
Published:
Categories
Let's Animate is a micro animation studio based at FarGo Village in Coventry. Creating animated digital content, alongside facilitating animation workshops, courses, clubs and birthday parties, for a wide range of ages and abilities, both in house and on location.
Let's Animate - Animation Studio in Coventry
The Coventry Rocks team have spent some time at the Let's Animate studio, getting to know the Creative Director Gemma Foy. Gemma is a true inspiration, and it was a pleasure to hear her talk so passionately about Animation. She showed us some of her student's work, and we heard all about what Let's Animate has to offer Coventry's families. There's a lot of really exciting stuff coming up, both face to face and online, so please keep reading for all the details!
But first, watch this video for a taster of what Let's Animate is all about...
---
An Interview with Gemma Foy
Tell me a bit about yourself!
Hello, i'm Gemma, and I'm the Creative Director at Let's Animate, a micro animation studio in Coventry.
Animation has always been a passion of mine, right from a very young age, I guess it was seeing Wallace and Gromit that really inspired me! I was a very creative child, always in my bedroom making something, especially from Plasticine. I would try to investigate how stop motion animation worked by photographing my creations and making flipbooks, but I just didn't have the right tools to do it properly. Then one day my dad brought home a huge old school video camera from work, I thought it was the best thing ever! That was how I made my very first animated film…and I've never looked back!
After leaving school I studied Graphic Design at College, before heading off to University to study animation, it was there I meet and talked with students that had previously completed the animation course, one ex-student, Adam, had landed a job at Ragdoll Productions – the makers of Teletubbies and In The Night Garden. We got chatting and he put my name forward for work experience at Ragdoll, even though the job was to only to make Tea, I was thrilled to be working in a real animation production company.
After graduating with a First-Class Honours, Ragdoll productions invited me back as a 'Clean up Artist' where I had to adjust and retouch the graphics on a brand new children's programme. From this roll I then progressed to become a 2D Animator for another show called 'Tronji'.
Whilst at Ragdoll, I was involved externally with various arts organisations, facilitating and creating animated films with various community groups. After leaving Ragdoll I freelanced for other production companies but it was the community side of things that I really fell in love with and so I decided to pursue this avenue more.
One recent Community project, I'm particularly proud of is a film created whilst working at The Herbert Art Gallery & Museum, with their Creative Bridged Team, they provide media based courses for students and young adults with learning difficulties. Together we created Welcome To My World about a 'sensory overload' and how it makes them feel. Projects like these are just amazingly rewarding and its always fantastic to see and share the final film together.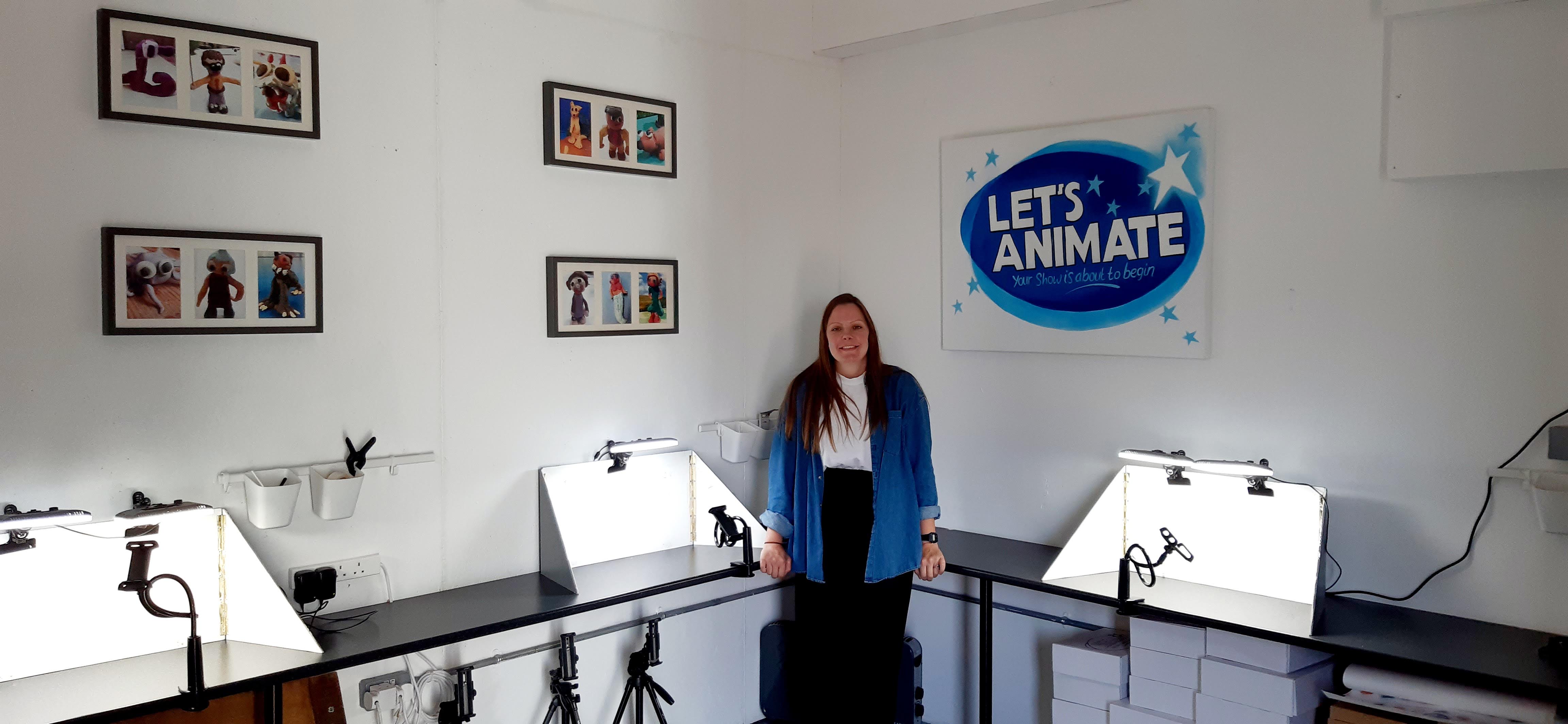 Why did you set up Let's Animate?
I continued over the years to facilitated animation workshops for various community organisations, galleries and groups, but at this point I didn't have a brand and premise, as the workload snowballed I decided it was now the right time to launch Let's Animate, a studio dedicated to providing animation as a creative service.
FarGo Village was only a year old when I moved in, it seemed like the perfect location for my studio, I felt at home with the other quirky businesses, and I love the creative atmosphere here. I starting in a small shipping container and quickly progressed to a larger premise, Just head to the Robot and up the stairs to find the Let's Animate studio.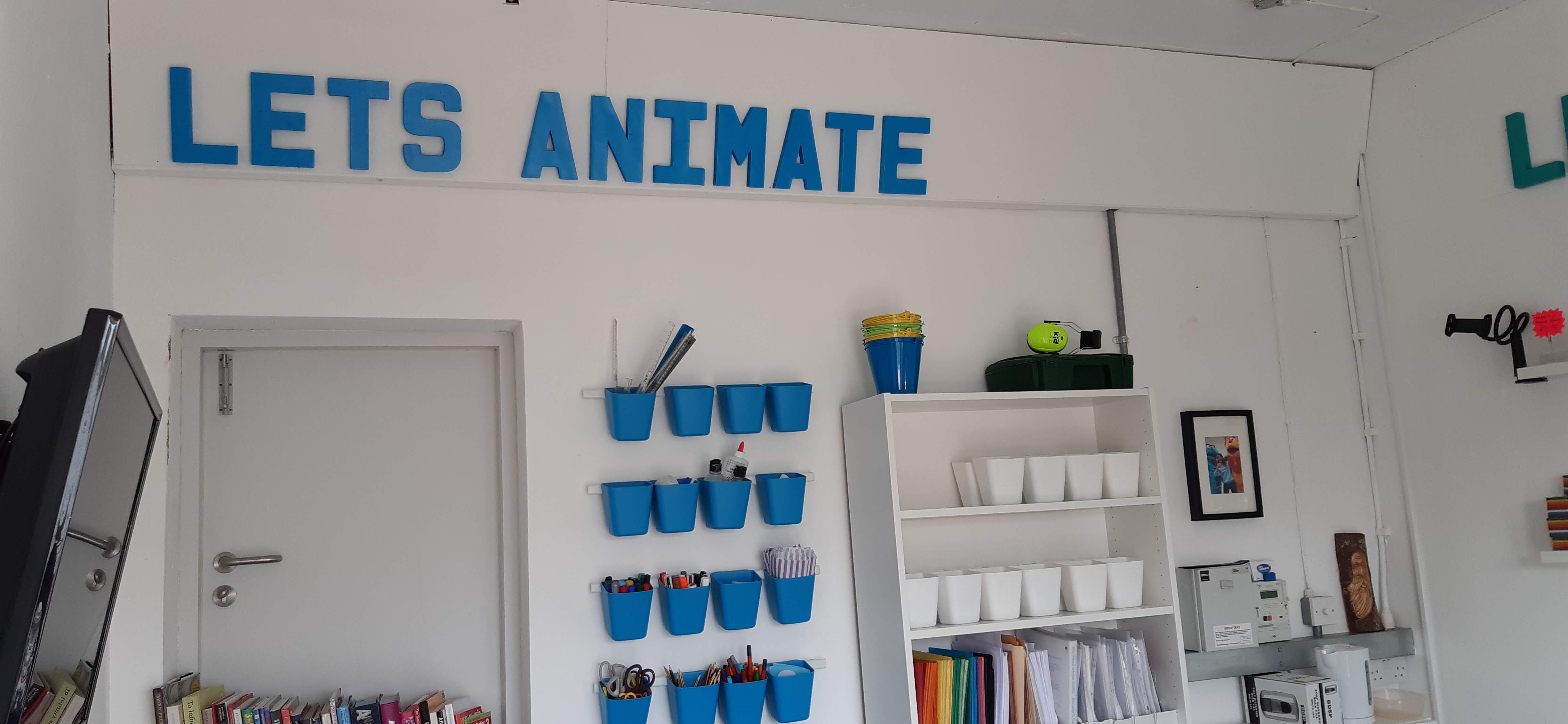 What's the best bit about your job?
Every day is different at Let's Animate, sometimes I can be in a school or a gallery creating an animated film, sometimes doing a team building session or sometimes I can be in the studio running animation club or even a children's birthday party, it's fantastic to work with lots of different people in a creative way. Animation is a brilliant way to express and tell your own stories, without being on camera yourself! What I love most of all is watching the faces of the filmmakers as they watch their final creation, this is the most rewarding part by far.
With Let's Animate your show is about to begin!
---
Workshop Sessions at Let's Animate
Let's Animate workshops are very popular, and I often get filmmakers who visit time and time again. Let's Animate offer a wide variety of techniques and fun projects for everyone to get stuck into. There are workshops that run in the School Holidays, as well as After School Clubs which run on a monthly basis. There's something for everyone! Workshops are available to book here.
After each workshop, all films are edited by Let's Animate, and sent back to the filmmakers to keep and share with friends and family. The final films are also uploaded to Let's Animate's social media pages and YouTube channel.
"Completely brilliant - kids had a great afternoon and were really proud of their finished work (and I was impressed with how much they achieved too!) Highly recommend - we'll be back for more." - Helen James
---
School Holiday Animation Workshops
Cartoon Cutouts - Make an animated film from your drawings! Open to all ages, families welcome.
Crazy Claymation - Make an animated film from Plasticine! Open to all ages, families welcome.
Brilliant Brick Flicks - Make an animated film from LEGO! Open to children over 7.
---
After School Animation Clubs
Junior Awesome Animators - a monthly animation club for ages 7-10
Teens Awesome Animators - a monthly animation club for ages 11+
Home Ed Awesome Animators - a monthly Home ED animation club for ages 7+
---
Birthday Parties at Let's Animate
Let's Animate also offer birthday parties! It's a fun packed animated adventure, where filmmakers will create their very own animated film. Find all the details here.
"Original, creative, fun and full of fantastic memories for a birthday party. Betty and Evie and their friends have not stopped talking about how much fun they had!" - Paul Boylin
Let's Animate can also offer Adult Birthday Parties, which are great fun, and something different for a group of friends to enjoy together.
---
Let's Animate At Home
During the Covid lockdown, I received a huge number of messages from families and children who wanted to continue animating at home. Creating an online shop offering animation kits and equipment, had always been in the pipeline, I decided it was now time to launch these. So I've been working hard to source all of the different pieces of equipment needed and Let's Animates Online Shop is now live, so anyone, anywhere can now animate remotely!
Let's Animate - Animation Kit
Sealed with the Let's Animate approval, this carefully selected all-in one kit contains everything needed to create your own Stop Motion animated movies, using your smart phone or tablet, just download an animation app and get animating! Find out more here.
Let's Animate also sells a Deluxe Animation Kit for those that like to draw, a Flip Book Kit, Plasticine, Modelling Tools, and other bits of clever equipment which allow anyone to have a go at the animation process, all you need is smart phone or tablet!
---
Let's Animate Online
To go hand in hand with the Animation Kits, I am busy creating an Online Platform which will contain online courses, workshops, clubs, tips and tricks, You will be able to subscribe to Let's Animate Online and receive regular tutorials, allowing you to learn everything you need to know about animation, all remotely.
Let's Animate Online is perfect for anyone who wants to have a go at the animation process. It's ideal for filmmakers who are unable to attend a workshop, or don't live locally; or for Special ED students who prefer to be in their home environment. Animation doesn't have to be made with Plasticine, you can use drawings, toys, dolls, found objects, anything that your imagination comes up with. It's a brilliant activity for all the family to enjoy together, everyone can gather round, watch the tutorials, and give animation a go.
Watch this space - Let's Animate Online is coming soon! If you'd like to know more, please register your interest here and i'll be in touch.
---
What's Next for Let's Animate?
Once I launch the Online Platform, I've got lots of ideas for how to continue to share my passion of animation. I would love to work more closely with schools and organisations, perhaps offering an online course for teachers, so they can teach their students the art of animation.
---
How Can I find out more?
If you subscribe to the Let's Animate YouTube Channel, you can watch all of Let's Animates amazing past creations! You can follow Let's Animate on Facebook and Instagram to keep up to date with all the latest news. A brilliant way to keep up to date with upcoming workshops is to sign up to Let's Animates Mailing List. And if you fancy popping in to the studio, then drop me an email to arrange a visit - I would be delighted to show you around!
---
At Coventry Rocks we love to find out about local businesses, and give families the inside scoop! If you know of any businesses or services which would like to be featured on Coventry Rocks then please get in touch!
Don't forget you can search the website for things to do in Coventry any time. Just visit the homepage and start browsing!
---